Can diet help keep your mind sharp and young as you age? Recent studies suggest that it can! It seems a good diet for your heart and joints is also good for your mind. Here are some findings:
Mediterranean Diet:
People who adhere to a Mediterranean diet have lower rates of Alzheimer disease and Parkinson disease.
The Mediterranean diet emphasizes:
Eating primarily plant-based foods, such as fruits and vegetables, whole grains, legumes and nuts
Replacing butter with healthy fats such as olive oil and canola oil
Using herbs and spices instead of salt to flavor foods
Limiting red meat to no more than a few times a month
Eating fish and poultry at least twice a week
Enjoying meals with family and friends
Drinking red wine in moderation (optional)
Getting plenty of exercise
Green leafy vegetables (like spinach and salad greens): At least 6 servings a week
Other vegetables: At least one a day
Berries: 2 or more servings a week
Beans: At least 3 servings a week
Whole grains: 3 or more servings a day
Poultry (like chicken or turkey): Two times a week
Olive oil: Use it as your main cooking oil.
Red meat: Less than 4 servings a week
Butter and margarine: Less than a tablespoon daily
Cheese: Less than one serving a week
Pastries and sweets: Less than 5 servings a week
Fried or fast food: Less than one serving a week
MIND Diet:
Older people who followed the MIND diet showed less declin
e in memory and mental speed, and were
less likely to have developed Alzheimer disease at 4.5-year follow-up.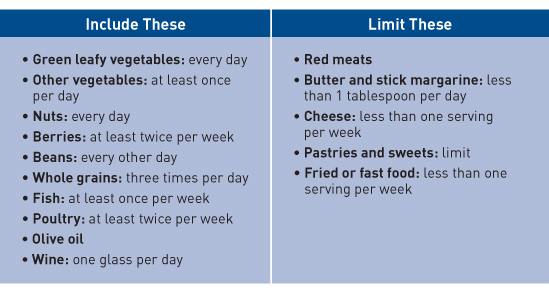 Source: http://www.todaysgeriatricmedicine.com/archive/0715p10.shtml
Bon Apetit!
http://www.medscape.com/viewarticle/869379?nlid=109612_764&src=WNL_mdplsfeat_161004_mscpedit_imed&uac=18894MK&spon=18&impID=1209092&faf=1
Material on this blog is provided for informational purposes only. It is general information that may not apply to you as an individual, and is not a substitute for your own doctor's medical care or advice.
Reading this blog should not be construed to mean that you and I have a patient-physician relationship.
The inclusion of any link does not imply my endorsement of the linked site or its affiliates,
NEVER DISREGARD MEDICAL ADVICE OR DELAY SEEKING MEDICAL CARE BECAUSE OF SOMETHING YOU HAVE READ ON OR ACCESSED THROUGH THIS WEB SITE.